The AHA Winter League Program is designed for players of all abilities - from Beginners to Advanced. Below is information on the Program and how to get registered.
Program Features
• 90 minute ice times; Three 17-minute, stop-time periods
• No checking, safe and competitive environment
• Two USA Hockey certified referees at every game
• Scorekeeper, online stats, and box scores
• 20 Regular Season games
• Playoffs for qualifying teams
• Season runs late November through early April (subject to change)
• Games played at the MAC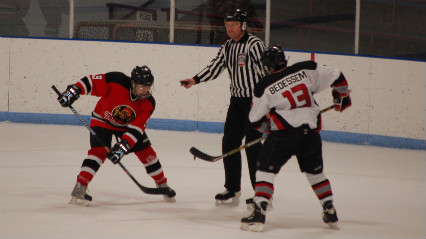 Registration Details
• Players must be registered with USA Hockey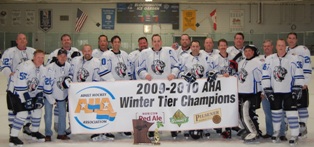 FAQs
Can I sign up with friends/co-workers/relatives?
Absolutely! You can register with people you know and based on playing ability we will do our best to place you on a team together.
What equipment will I need?
You will need full hockey equipment for your first game. Equipment includes helmet (half-shield is acceptable, but full cage/mask is recommended), breezers, elbow pads, gloves, breezers, shin pads, skates, stick, hockey socks. Shoulder pads are optional, but recommended. Eventually matching-color helmets and breezers will be required for the winter league. We strongly recommend you purchase black helmet and breezers.
Is fighting/rough play allowed in AHA?
AHA is a non-checking league. Fighting is strictly prohibited. AHA promotes a safe environment for adults to play hockey and does not condone rough play. Players that fight or get excessive penalty minutes are suspended. Refer to the AHA Addendum for more information.
When will the 2011-2012 Winter season begin?
Games are tentatively scheduled for mid-October.
When will I find out my Winter schedule?
The schedule is released about two weeks before the start of the season. The complete Winter schedule is released at the beginning of the season. For more information contact the Registration Coordinator.