Women: Have you always wanted to play hockey but don't know where to start? AHA Hockey is excited to once again offer a Try Hockey for Free event for Women! This event is a perfect opportunity to get on the ice with other women and try out the game. AHA Instructors will be there to help you get used to skating and lead instructional drills. Best of all... this event is FREE!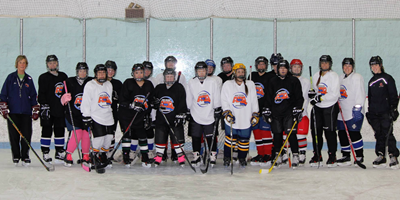 AHA Women's Try Hockey for Free Event, March, 2014
Details:
• Date: Saturday, February 27, 2016
• Time: 1:00-2:00PM. (We recommend arriving at least 30-45 minutes early to check-in and get dressed)
• Location: Highland Arena, St Paul
• Cost: FREE!
• Required equipment: Skates, helmet, stick (We strongly encourage: shin pads, elbow pads, gloves, breezers)

Registration:
Please reserve your spot in this fun event by completing a free registration below. If you need equipment to wear for the event, please specify that the notes and we will try to accomodate all requests. Or if you have any questions, feel free to let us know by emailing Sue Allhiser!