The Adult Hockey Association Beginner School is designed for adults with very little to no previous organized hockey experience. The intent of this program is that you graduate with your fellow participants as a team, prepared to enter AHA League play. Run twice per year (November - April and April - August) the program takes students through the basic skills of hockey and introduces players to the concepts of team play. The School consists of 10 on-ice instructional sessions and 10 games.

Instructional Sessions:
• 10 on-ice weekly instructional clinic/practices (90 minutes each)
• Two off-ice chalk talk sessions with instructors
• Controlled scrimmages
• Goaltending instruction
• AHA Qualified Instructors
• Practice jersey included
Game Play:
• 10 games with 17-minute stop-time periods plus OT
• Two USA Hockey certified referees
• Scorekeeper, online stats, and box scores
• Championship game with awards
Beginner School Details:
• Program fees: $475
• Beginner Schedule
• Participants must be registered with USA Hockey
• Fee does not include equipment or game jerseys
• Program is limited to 34 skaters and two goaltenders
• School begins in mid-April
• Sessions held at Breck Anderson Ice Arena on Wednesday evenings
Registration Update as of April 5: The 2013 Spring Beginner School is now FULL.

To be notified when registration information is posted for the 2013-14 Winter Beginner School, please email registration@ahahockey.com.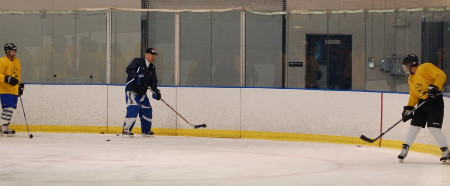 Goaltenders: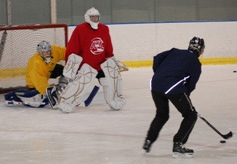 Part of our experienced on-ice staff is a goaltender instructor. Goalies will receive 1-on-2 instruction for all 10 weeks of the instructional sessions.
FAQs:
What equipment will I need for the Beginner School?
You will need full hockey equipment when you take the ice on the first night. Equipment includes helmet (half-shield is acceptable, but full cage/mask is recommended), breezers, elbow pads, gloves, breezers, shin pads, skates, stick, hockey socks. Shoulder pads are optional, but recommended. If you are purchasing a new helmet and/or breezers, we strongly recommend you purchase black. Black is not required for Beginner School, but once your team graduates to league play, your team's equipment must match in color.
I've never played hockey before. Is Beginner School for me?
The large majority of participants in Beginner School have never played any organized hockey previously. Perhaps pickup games or on a pond, either growing up or as an adult. Most have a little bit of skating experience, but our instructors will teach you the mechanics of skating in Beginner School. If you've never been on ice skates before, that is not a problem, but we do recommend you get some experience skating before you start the Beginner School. Most local rinks have designated open ice time where you can become familiar with getting around the ice.
Can I sign up with friends/co-workers/relatives?
Absolutely! You can register with people you know and we will make sure you are on the same team together.
How many goalies can register?
There is room for two goalies per session.
Is the Beginner School co-ed?
Like all of the AHA Programs, men and women skate together on teams. We do also offer a Women-only Beginner School.
I'm interested in goaltending, but I don't have all of the equipment - do you have "loaner" gear?
Through creative purchasing and donations, the AHA has assembled two sets of goalie equipment for loan to our players while you assemble your own goalie equipment. The stuff isn't all pretty, but it's all in good working order.
Do I need to attend an evaluation session to participate in the Beginner School?
No. We assume all participants that register for the Beginner School are beginner players, meaning they have never played organized hockey or perhaps a year or so at the youth levels and are returning to hockey after a long time. We don't consider pickup or pond hockey organized hockey.
For more information contact the Beginner Coordinator.